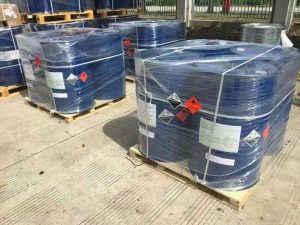 产品名称:环己胺
分子式:C6H13N(C6H11NH2)
相对分子质量:99.17
结构式:


理化性质:有不愉快的气味,沸点134.5℃,比重
 0.875,凝固点—17.7℃,闪点32°C(开杯),具有强有机碱性质,0.01%的水溶液pH为10.5,与水形成共沸物,共沸点96.40℃,与多种有机溶剂混溶。
质量指标(参考标准:HG/T2816-2014):
项        目

Item

                                                                        指         标(Specifications)

优等品

Superior products

一等品

First Grade

环己胺(Cyclohexylamine),w/%,≥

99.5

98.5

苯胺(Aniline),w/%,≤

0.05

0.15

二环己胺(Dicyclohexylamine),w/%,≤

0.05

0.15

水分(Water),w/%,≤

0.15

0.30

色度(Chroma),Hz,≤

20

30
用途:
用以制备环己醇、环己酮、己内酰胺、醋酸纤维等。环己胺本身为溶剂,可在树脂、涂料、脂肪、石蜡油类中应用。也可用于制取脱硫剂、橡胶抗氧剂、硫化橡胶促进剂、塑料及纺织品化学助剂、锅炉给水处理剂、金属缓蚀剂、乳化剂、防腐剂、抗静电剂、胶乳凝固剂、石油添加剂、杀菌剂、杀虫剂及染料中间体。环己胺的磺酸盐,作为人工甘味料,用于食品、饮料和医药。 
用作锅炉给水ph值调节剂。环己胺属于挥发性物质,加药后很容易到达整个系统。若ph低于8.5,对环己胺处理效果不利。
包装:用密封闭口钢桶、塑料桶包装,ISO TANK,IBC包装。
Product Name: Cyclohexylamine
Molecular formula: C6H13N(C6H11NH2)
Relative molecular weight: 99.17
Structural formula:
Physical and chemical properties: unpleasant smell, boiling point 134.5 ℃, specific gravity 0.875, freezing point-17.7 ℃, flash point 32 ° C (open cup), strong organic alkali property, pH 10.5 of 0.01% aqueous solution, azeotrope with water, azeotropic point 96.40 ℃, miscible with a variety of organic solvents.
Quality index (reference standard: HG / T 2816-2014)
It is used to prepare cyclohexanol, cyclohexanone, caprolactam and cellulose acetate. Cyclohexylamine itself is a solvent, which can be used in resin, coating, fat and paraffin oil. It can also be used to make desulfurizer, rubber antioxidant, vulcanized rubber accelerator, plastic and textile chemicals, boiler water treatment agent, metal corrosion inhibitor, emulsifier, preservative, antistatic agent, latex coagulant, petroleum additive, bactericide, insecticide and dye intermediate. The sulfonate of cyclohexylamine, as an artificial sweetener, is used in food, beverage and medicine.
It is used as pH regulator of boiler feed water. Cyclohexylamine is a volatile substance, which can easily reach the whole system after dosing. If the pH is lower than 8.5, the treatment effect of cyclohexylamine is not good.
Packaging: sealed closed steel drum, plastic drum, ISO tank, IBC packaging.