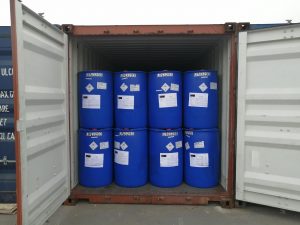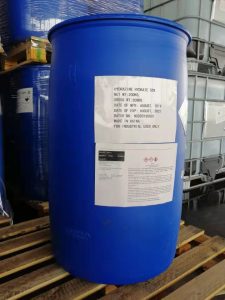 产品名称:水合肼
水合肼,又称水合联氨。纯品为无色透明的油状液体,有淡氨味,在湿空气中冒烟,具有强碱性和吸湿性。常压下,肼可以和水形成共沸(共沸物中肼含量约为69%)。工业上一般应用含量为40%-80%的水合肼水溶液或肼的盐,含量也可达到100%。水合肼液体以二聚物形式存在,与水和乙醇混溶,不溶于乙醚和氯仿;它能侵蚀玻璃、橡胶、皮革、软木等,在高温下分解成N2、NH3和H2;水合肼还原性极强,与卤素、HNO3、KMnO4等激烈反应,在空气中可吸收CO2,产生烟雾。水合肼及其衍生物产品在许多工业应用中得到广泛的使用,用作还原剂、抗氧剂,用于制取医药、发泡剂等。
中文名称:水合肼      中文别名:水合联氨
分子量:50.06

熔    点:-40 ℃

沸    点:118.5 ℃
密    度:1.032 g/cm³

分 子 式:N2H4·H2O

CAS号:7803-57-8

产品用途介绍:
A.用于合成发泡剂:
采用水合肼为原料制造的ADC发泡剂,其发气量明显大大超过其它同类产品,且制品无毒、无味、不变色、不变质。

B.用于合成农药:
以水合肼和肼的衍生物三氮唑合成的农药较多,数量百余种。
C.医药工业:
以水合肼和水合肼的衍生物合成的医药种类繁多,比较常见有头孢药物系列和利福平等。
D.用作除氧剂:
由于肼具有还原性,它与氧发生化学反应后,生成氮和水,具有无毒,无腐和除氧迅速的特点,因此常用作水介质除氧剂,用量最大的是锅炉给水除氧。
E.可提炼制作火箭燃料。
F.可用来提炼贵重金属。
G. 乘用车安全气囊等。
Product Name: Hydrazine Hydrate
Hydrazine hydrate, also known as hydrazine hydrate. The pure product is colorless and transparent oily liquid, with light ammonia smell, smoking in wet air, strong alkalinity and hygroscopicity. Under normal pressure, hydrazine can form azeotrope with water (the content of hydrazine in azeotrope is about 69%). Hydrazine hydrate solution or hydrazine salt with 40% – 80% content is generally used in industry, and the content can reach 100%. Hydrazine hydrate liquid exists in the form of dimer, and is miscible with water and ethanol, but insoluble in ether and chloroform; it can corrode glass, rubber, leather, cork, etc., and decomposes into N2, NH3 and H2 at high temperature; hydrazine hydrate has strong reducibility, and reacts with halogen, HNO3, KMnO4, etc., which can absorb CO2 in the air and produce smoke. Hydrazine hydrate and its derivatives are widely used in many industrial applications, such as reducing agent, antioxidant, pharmaceutical and foaming agent.
Chinese Name: hydrazine hydrate        Chinese alias: hydrazine hydrate
Molecular weight: 50.06
Melting point: – 40 ℃
Boiling point: 118.5 ℃
Density: 1.032 g / cm 3
Molecular formula: N2H4 · H2O
CAS No.: 7803-57-8
Product usage:
A. It is used to synthesize foaming agent
Using hydrazine hydrate as raw material, the gas generation of ADC foaming agent is much higher than that of other similar products, and the product is non-toxic, tasteless, colorless and non deteriorating.
B. For the synthesis of pesticides:
More than 100 kinds of pesticides were synthesized from hydrazine hydrate and triazole derivatives of hydrazine.
C. Pharmaceutical industry:
There are many kinds of medicines synthesized from hydrazine hydrate and its derivatives, such as cephalosporins and rifampicin.
D. Used as deoxidizer:
Because hydrazine is reductive, it reacts with oxygen to form nitrogen and water. It has the characteristics of non-toxic, non corrosive and rapid oxygen removal. Therefore, hydrazine is often used as water medium deoxidizer, and the largest dosage is boiler feed water deoxidization.
E. It can be refined to make rocket fuel.
F. It can be used to refine precious metals.
G. Passenger car airbags, etc.